Playwrights
♥royal us

Yunmie
, 16, 31193. a proud cassie. ♥s pink. yogurt. mean girls. kpop . TVXQ especially
JUNG YUNHO
.
Blog | Mail | Friendster | YM
Sangie
, 15, 71693. senior. random. moody. impulsive. observant. mamaw. tee+jeans+sneaks girl. music is my
life
. ♥s green. dark chocolate. saw. twilight. ♥ jaejoong.
Blog | Mail | Friendster | YM


Best viewed in Mozilla Firefox
For IE users click on the chapters to see main page
Literature
♥Must Read
Love in a Mist
is a drama patterned on the Taiwanovela
Meteor Garden
. Male leading roles are played by
Dong Bang Shin Ki
, a popular Korean boy band.
♥ When a lover of many touches you would you accept him?
♥ When love reaches out back would you hold on to it?
♥ Would you even have imagined yourself in a chaotic and mysterious love?
♥ Through persuasion and patience can love be bought?
♥ When two people of the same heartbreak fall inlove with each other, do you consider that true?
Follow the lives of these teenage lovers as they fall in
love in a mist
.
Casts
♥click names to see info
동방불패
Dong Bang Bul Pae
"The Ashes of Time"
Choikang Changmin as Max

Jung Yunho as Yunho
Youngwoong Jaejoong as Hero

Kim Junsu as Xiah

Park Yoochun as Micky/Yoochun
New Ways Girls
"The Girlfriends"

Im Yoon Ah as Jen Im

Jeong Ryeo-won as Lovely Jeong

Park Min Young as Rose Park

Hwang Mi Young as Yuki Fokuda

Lim Eun Kyoung as Paris Han
Mean Girls
"The Plastics"

Han Ga In as Emily Yoon
Nam Gyu ri as Scarlett Park
Bae Seul Gi as Amanda Lee

Lee Hyo ri as Candice Choi
Poll
Best Couple ♥
Tagboard
comments *:)
Affiliates
Link us!♥





Wanna add your site here?
Email us at lovemist@ymail.com

Link Us!


URL
Chapters
Read More ♥
Chapter 43: Sugar, Spice and Everything Nice
See all Chapters
credits
Komawo~!
Basecodes:
LOU
ISA
Smilies
AdobePhotoshop
OST
♥inamist!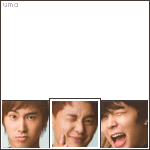 Chapter 43: Sugar, Spice and Everything Nice
12:10 AM
*The last class for the day, Geography.
Jen: (Passed a note to Max)

My Minnie,

Please come with me at my house today. My parents are at a business trip.
Saranghae! ♥

-Jen



Max: (Replied to the note)


I haven't said "yes"


Jen: *Whispering* Oh I know you would anyway! (Giggle)
Max: (Smile) Araso.
Jen: Kamsahamnida. (Blew a kiss)
Max: (Caught the kiss and put it in his pocket) I'll reserve it for emergency purposes. (Winked)
[Jen giggled]

*Bell Rings… Max approached Jen.
Max: I'm ready.
Jen: Omo~! You seem so excited.
Max: Of course, I'm going to be with you…alone. (Grin)
Jen: Minnie-ah… I don't like that idea.
Max: (Laugh) What?!

*At the parking lot…
Max: Aigoo~! Where is my car?
Junpyo: Hyung! JJ told me to tell you he borrowed your car.
[Max searched for the keys in his pocket and he didn't find it.]
Max: Mm? I wonder how he got it…so I guess we're going to commute.
Jen: Araso. (Smile)
Max: But I don't know how.
[Jen laughed]
Max: Seriously.
Jen: What?
Max: I don't know how.
[Jen laughed again]
Max: Don't laugh at me, it's not funny. (Frown)
Jen: (Laugh) Are you kidding me? It's hilarious.
Max: I said it's not funny!
Jen: (Laugh) Araso. I'll stop now.
*SILENCE*
[Jen bursted into laughter]
Max: Aish! (Walked away)
Jen: Oppa~! (Smile)
Max: Don't laugh at me! (Pout)
Jen: (Laugh) You look like a child!
Max: Stop it!
Jen: Okay, I'll stop.
[They walked to the train station silently. Max's hands are on his pocket. Jen stopped. Max looked at her.]
Jen: Araso. Step no.1: Buy tickets to the ticket booth.
[Max went to the ticket booth.]
Girl: Hi sir. How many tickets? (Smiling and flirting)
Max: Uhm, 2 tickets please.
[Max handed the money and the girl intentionally touched his hand and smiled. Max did not react and Jen was glaring.]
Girl: Here's your change sir. Kamsahamnida. (Smile)
Max: (Nodded) Here… (Handed the tickets to Jen)
Jen: You seemed like you enjoyed it.
Max: Yea. It was my first… I did not flirt with the girl.
Jen: Ye, I know. I'm proud of you. (Smile)
Max: (Smile) Can I get a reward for that?
[Jen kissed Max]
Max: *Sigh* Heaven…
Jen: (Laugh) Araso. Step no.2: Insert the card intp the slot and get in on the other side.
[Max got inside and so did Jen. They stepped inside the train and he saw an empty seat.]
Max: Step no.3: Let your girl sit.
[Jen smiled]
Max: It's called sacrifice.
Jen: Kamsahamnida~!
[Max stood in front of Jen and held onto the bar. While riding, Max held Jen's hand using his free hand and kept on looking around.]
Jen: (Smile) You look so innocent… (whispered)
Max: Eh??
Jen: Nothing.

*They arrived at Jen's house. Max looked around.
Jen: What? Look, don't expect it to be as big as your house.
Max: No… (Laugh) Your house just looks so cute. (Smile)
[Max kept on looking around. Jen fixed her things on the sofa.]
*SILENCE*
Max: I'm hungry.
Jen: I'll cook.
Max: I'll stay here. (Smile)
Jen: Okay.
[Jen went to the kitchen and cooked. While cooking, Max hugged Jen from her back.]
Max: What are you cooking? (Smelled Jen's hair)
Jen: (Smile) Hmm… Ramen
Max: u-huh. (Kissed Jen's cheek and then down to her neck)
Jen: Changmin-ah…
[Max turned her so that she is facing him. He kissed her for a few minutes then Jen held back.]
Jen: (Fixed Max's shirt) You're hungry (pointing to his tummy) right?
Max: Right.
Jen: So I'm gonna feed you.
[Jen continued cooking. After a few minutes, Jen served the food and called over Max.]
Jen: Oppa~! Food is ready. Let's eat.
Max: Wow! It smells delicious.
Jen: Ofcourse it does! Wait till you taste it. (Laugh)
Max: Oh, I can't wait!
[Max ate while Jen watched him. Max laughed]
Jen: What's funny?
Max: Nothing.We look like a married couple.

-------------[ NC - 17 ] ------------------

[After Max and Jen ate, Max carried her.]
Jen: Omo~! Oppa!
[Max laughed]
Jen: Where are you taking me?
Max: Somewhere… (Smirk)
[Max gave Jen a quick kiss on the lips]
[Max carried Jen to her room and kissed her continuously. He laid her in the bed and spread her arms and kissed her from the lips down to her neck while unbuttoning her blouse. His kiss went down to her shoulder then to her chest.]
Jen: Changmin! (Sat up quickly)
[Jen hit Max's cheek.]
Max: Aw!
Jen: Omo~! Mianhe…
[Jen got an ice bag downstairs and brought it up to her room.]
*SILENCE*
[Jen held the ice bag on Max's cheek. He was staring blankly then he closed his eyes. He touched Jen's hand while it's still on his cheek then he opened his eyes. He put Jen's hand over his shoulder then laid her down the bed while kissing her.]
Jen: Oppa…
Max: I'll be gentle. I promise.

*The next morning. Jen was lying on the chest of Max wearing on Max's polo shirt.
[Max was tracing random patterns on Jen's back.]
Jen: Morning… (Smile)
Max: Morning sleepyhead. How are you?
Jen: I'm fine. (Smile)
*SILENCE*
Jen: It hurts a bit…
[Max raised his eyebrows]
Jen: But…
Max: But what?
Jen: (Smile) I never thought it would be like that. It felt so good especially I did with you.
Max: Uhm… (Nodded)
Jen: What?
Max: Nothing.
[Jen pouted]
Max: What?
*SILENCE*
Max: are you worried that I did not enjoy myself?
[Jen nodded]
Max: Of course I did. It's…
Jen: The best?
[Max nodded]
Jen: Really?
Max: U-huh.
[Jen smiled then kissed him.]