Playwrights
♥royal us

Yunmie
, 16, 31193. a proud cassie. ♥s pink. yogurt. mean girls. kpop . TVXQ especially
JUNG YUNHO
.
Blog | Mail | Friendster | YM
Sangie
, 15, 71693. senior. random. moody. impulsive. observant. mamaw. tee+jeans+sneaks girl. music is my
life
. ♥s green. dark chocolate. saw. twilight. ♥ jaejoong.
Blog | Mail | Friendster | YM


Best viewed in Mozilla Firefox
For IE users click on the chapters to see main page
Literature
♥Must Read
Love in a Mist
is a drama patterned on the Taiwanovela
Meteor Garden
. Male leading roles are played by
Dong Bang Shin Ki
, a popular Korean boy band.
♥ When a lover of many touches you would you accept him?
♥ When love reaches out back would you hold on to it?
♥ Would you even have imagined yourself in a chaotic and mysterious love?
♥ Through persuasion and patience can love be bought?
♥ When two people of the same heartbreak fall inlove with each other, do you consider that true?
Follow the lives of these teenage lovers as they fall in
love in a mist
.
Casts
♥click names to see info
동방불패
Dong Bang Bul Pae
"The Ashes of Time"
Choikang Changmin as Max

Jung Yunho as Yunho
Youngwoong Jaejoong as Hero

Kim Junsu as Xiah

Park Yoochun as Micky/Yoochun
New Ways Girls
"The Girlfriends"

Im Yoon Ah as Jen Im

Jeong Ryeo-won as Lovely Jeong

Park Min Young as Rose Park

Hwang Mi Young as Yuki Fokuda

Lim Eun Kyoung as Paris Han
Mean Girls
"The Plastics"

Han Ga In as Emily Yoon
Nam Gyu ri as Scarlett Park
Bae Seul Gi as Amanda Lee

Lee Hyo ri as Candice Choi
Poll
Best Couple ♥
Tagboard
comments *:)
Affiliates
Link us!♥





Wanna add your site here?
Email us at lovemist@ymail.com

Link Us!


URL
Chapters
Read More ♥
Chapter 29: A Solemn Vow
See all Chapters
credits
Komawo~!
Basecodes:
LOU
ISA
Smilies
AdobePhotoshop
OST
♥inamist!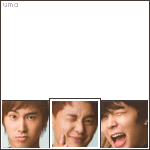 Chapter 29: A Solemn Vow
12:46 AM
**Xiah tried to look for Yuki but he couldn't find her. When he returned to the room, he saw Yuki. Yuki didn't spoke to him. So after class…

Xiah: Yuki…
Yuki: Kim Younha. Tell me more about her.
Xiah: She's from 4-A
Yuki: Then?
[Xiah took a picture from his wallet]
Xiah: Here… (Pass the picture to Yuki)
Yuki: *In her mind* Omo~! She really looks like me.
Xiah: In person, she's even prettier. (Smiling)
[Yuki nodded]
Yuki: How did you fell in love to each other?
Xiah: (Looked at the sky) It was love at first sight.
Yuki: So you started dating right away?
Xiah: No. She had a boyfriend at that time.
Yuki: Did you steal her?
Xiah: Ye, that's right.
[Xiah took the picture and looked at it]
Yuki: *in her mind* I've never seen Junsu so focused on one thing before.
Yuki: You really love to brag about her, huh?
Xiah: She was my first. The first girl I've ever loved.
Yuki: *in her mind* My chest hurt.
[Yuki stared at Junsu]
Xiah: Yuki-chan, do you really, really like me?
Yuki: Ye. I really really do Junsu-kun.
Xiah: I see. Why did you ran?
Yuki: They said that I looked like her. Is it true? Junsu-kun, look at me.
[Xiah looked at her and then he nodded.]
Xiah: You have the same eyes, nose, lips and…
[Yuki stopped him]
Yuki: I want you to know that I am different from her. She's a part of your past now and I'm part of your present.

***Long Silence***

Xiah: She's a cheater…
[Yuki was shocked]
Xiah: She was with another guy when she died in the accident. It was her ex. They were never through with each other.
Yuki: I'm sorry…
Xiah: its okay (Starting to walk) Maybe it was my fault too. I'll take you home Yuki-chan.
Yuki: Ah~! You don't need to take me home.
[Xiah stopped walking]
Xiah: But I want to.
Yuki: You're not my boyfriend.
[Xiah was offended]
Xiah: (Smirking) Ye. You're right. I'm not your boyfriend.
[Xiah started to walk again then Yuki started to walk too.]
Yuki: Junsu!
[Xiah turned around]
Yuki: You might feel you're alone but I'm always watching you …I'm always watching over you.

**After 1 week

[The class was busy for the upcoming event of the school. Everyone was busy doing some props, making the stage and practicing. The class decided to chose Xiah as the leading role to attract female viewers. After practicing, Xiah was exhausted so he sat down near the window. Yuki saw him]

Yuki: Are you okay?
Xiah: Ye. Yuki-chan…
Yuki: Ye?
Xiah: You said you're always watching me, didn't you? Can you really do that?
Yuki: I can.
Xiah: Fool. You're unreasonable. You're watching over me? You're spewing out a guy line like that. You're really conceited, aren't you?
Yuki: You're so mean! It's easy for you to say that…
[Yuki hit his head]
Xiah: Aw!
Yuki: Omo~! Junsu… S-sorry… Junsu?
Xiah: Just kidding (Looking down) Actually, I was really happy that you're back. Yuki-chan… (Low voice and serious)
Yuki: Ye?
Xiah: Let me borrow your shoulder…
[Xiah suddenly buried his face in Yuki's shoulder and closed his eyes then Yuki patted his back]
Yuki: I promise to always watch over you… You're not alone.