Playwrights
♥royal us

Yunmie
, 16, 31193. a proud cassie. ♥s pink. yogurt. mean girls. kpop . TVXQ especially
JUNG YUNHO
.
Blog | Mail | Friendster | YM
Sangie
, 15, 71693. senior. random. moody. impulsive. observant. mamaw. tee+jeans+sneaks girl. music is my
life
. ♥s green. dark chocolate. saw. twilight. ♥ jaejoong.
Blog | Mail | Friendster | YM


Best viewed in Mozilla Firefox
For IE users click on the chapters to see main page
Literature
♥Must Read
Love in a Mist
is a drama patterned on the Taiwanovela
Meteor Garden
. Male leading roles are played by
Dong Bang Shin Ki
, a popular Korean boy band.
♥ When a lover of many touches you would you accept him?
♥ When love reaches out back would you hold on to it?
♥ Would you even have imagined yourself in a chaotic and mysterious love?
♥ Through persuasion and patience can love be bought?
♥ When two people of the same heartbreak fall inlove with each other, do you consider that true?
Follow the lives of these teenage lovers as they fall in
love in a mist
.
Casts
♥click names to see info
동방불패
Dong Bang Bul Pae
"The Ashes of Time"
Choikang Changmin as Max

Jung Yunho as Yunho
Youngwoong Jaejoong as Hero

Kim Junsu as Xiah

Park Yoochun as Micky/Yoochun
New Ways Girls
"The Girlfriends"

Im Yoon Ah as Jen Im

Jeong Ryeo-won as Lovely Jeong

Park Min Young as Rose Park

Hwang Mi Young as Yuki Fokuda

Lim Eun Kyoung as Paris Han
Mean Girls
"The Plastics"

Han Ga In as Emily Yoon
Nam Gyu ri as Scarlett Park
Bae Seul Gi as Amanda Lee

Lee Hyo ri as Candice Choi
Poll
Best Couple ♥
Tagboard
comments *:)
Affiliates
Link us!♥





Wanna add your site here?
Email us at lovemist@ymail.com

Link Us!


URL
Chapters
Read More ♥
Chapter 26: Love Bites
See all Chapters
credits
Komawo~!
Basecodes:
LOU
ISA
Smilies
AdobePhotoshop
OST
♥inamist!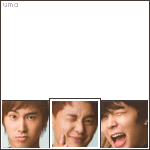 Chapter 26: Love Bites
2:00 AM
**Last day at the villa

[The boys were looking at the sea]
Max: I'll never forget this vacation.
Yunho: Especially for me.
Hero: Ye. (Laughing)
Xiah: I'm so exhausted… Look at my eye bags… (Sleepy voice)
[They looked at him]
Micky: Omo! So huge! (Surprised)
Hero: What happened to you? (Worried)
Xiah: Yuki-chan called last night… she's not coming back. I wasn't able to sleep last night.
Yunho: I see… (Nodding)
Xiah: Why you're just nodding like that? You must comfort me. (Frowning)
*Max gave a stern look to Yunho*
[Yunho shook his head then look at Hero. Hero shook his head too then looked at Micky]
Micky: Junsu ah… (Patting Xiah's shoulder)
[Xiah embraced Micky and cried]
Xiah: Chunnie ah~ Yuki-chan dumped me. I can't take it. I got rejected by a girl.
[Yunnie (Yunho), Minnie (Max/Changmin), Jaejoongie (Hero/Jaejoong) chuckled at the back]
Max: *murmuring* They can be a good couple right?
Hero: Ye. (Nodding)
Yunho: YooSu couple eh?
[Three of them chuckled again. Xiah saw them.]
Xiah: Ya~! Why are you secretly laughing there? (Throw a snowball at Max)
Max: Aish! Kim Junsu! Stop that.
[Xiah threw a snowball again at Hero then to Yunho. Five of them started to have a snowball fight.]

**At the window

Jen: *laughing* Girls… Look…
[Jen pointed them out]
Rose: They're so cute playing out there.
Lovely: *laughing* Ye, they're so happy.
[Paris approached Lovely.]
Paris: Can we talk?
Lovely: Sure.
[Rose look at Jen and they left]
Paris: I know that you saw me kissing Yunho.
[Lovely didn't answer]
Paris: You're so lucky Lovely. Yunho is so loyal to you.
[Again, Lovely didn't answer]
Paris: I gave back the ring to him. See (raise her left hand). There's no more ring. I'll talk to her mother to stop the wedding.
Lovely: Paris… I…
Paris: Wait, don't feel pity for me. I do not like that. How I wished Yunho met me first. (Pouting her lips)
[Lovely smiled]
Lovely: You're going to talk to his mom?
Paris: Ye. I don't want to marry a man who doesn't love me. Just leave it to me okay?
Lovely: Okay. Thanks.
Paris: It feels so awkward to talk to you. It's like you're going to slap me.
Lovely: Ha?! You want me to do that? (Raise her right hand)
[Paris closed her eyes. She's ready. Then…]
**SMACK!!!!**
[Paris screamed. The five boys, Jen and Rose saw them. They're shocked.]
Lovely: Aish! Chunnie! There are SO many mosquitoes here. It's biting me. (Exaggerating the word "So")
[Paris slowly opened her eyes]
Lovely: Paris! Look, I killed one. I'm good right? (Winked at Paris and leave)
[Paris smiled and touched her head]
Paris: She got me.

*At Lovely's room

Yunho: I thought you slapped her.
Lovely: I really did. (Sarcastic)
[Yunho's eyes grew big]
Lovely: Gaah~! Yunho! Don't tell me you believe in what I just said?
Yunho: Ye. Why? (So serious)
Lovely: (Stick out her tongue) Bleeh! I'm just acting out. OMG! I got you… (Laughing)
Yunho: Aish! Lovely! I'm going to kill you.
[Lovely hit him with a pillow then Yunho suddenly embraced her]
Yunho: Promise me that… *pause for awhile* you're not going to leave me again…
Lovely: I… I promise.