Playwrights
♥royal us

Yunmie
, 16, 31193. a proud cassie. ♥s pink. yogurt. mean girls. kpop . TVXQ especially
JUNG YUNHO
.
Blog | Mail | Friendster | YM
Sangie
, 15, 71693. senior. random. moody. impulsive. observant. mamaw. tee+jeans+sneaks girl. music is my
life
. ♥s green. dark chocolate. saw. twilight. ♥ jaejoong.
Blog | Mail | Friendster | YM


Best viewed in Mozilla Firefox
For IE users click on the chapters to see main page
Literature
♥Must Read
Love in a Mist
is a drama patterned on the Taiwanovela
Meteor Garden
. Male leading roles are played by
Dong Bang Shin Ki
, a popular Korean boy band.
♥ When a lover of many touches you would you accept him?
♥ When love reaches out back would you hold on to it?
♥ Would you even have imagined yourself in a chaotic and mysterious love?
♥ Through persuasion and patience can love be bought?
♥ When two people of the same heartbreak fall inlove with each other, do you consider that true?
Follow the lives of these teenage lovers as they fall in
love in a mist
.
Casts
♥click names to see info
동방불패
Dong Bang Bul Pae
"The Ashes of Time"
Choikang Changmin as Max

Jung Yunho as Yunho
Youngwoong Jaejoong as Hero

Kim Junsu as Xiah

Park Yoochun as Micky/Yoochun
New Ways Girls
"The Girlfriends"

Im Yoon Ah as Jen Im

Jeong Ryeo-won as Lovely Jeong

Park Min Young as Rose Park

Hwang Mi Young as Yuki Fokuda

Lim Eun Kyoung as Paris Han
Mean Girls
"The Plastics"

Han Ga In as Emily Yoon
Nam Gyu ri as Scarlett Park
Bae Seul Gi as Amanda Lee

Lee Hyo ri as Candice Choi
Poll
Best Couple ♥
Tagboard
comments *:)
Affiliates
Link us!♥





Wanna add your site here?
Email us at lovemist@ymail.com

Link Us!


URL
Chapters
Read More ♥
Chapter 22: Forgive and Forget
See all Chapters
credits
Komawo~!
Basecodes:
LOU
ISA
Smilies
AdobePhotoshop
OST
♥inamist!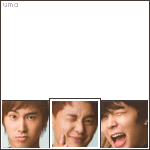 Chapter 22: Forgive and Forget
12:44 AM
*Late at night
**Yunho can't sleep so he decided to go outside.
(Outside, he saw Lovely sitting at the terrace so he sat beside her.)

Yunho: Hi.
Lovely: Yunho…
Yunho: How are you?
Lovely: I'm doing fine.

Yunho: No you're not.
Lovely: …
Yunho: (He's now facing Lovely) Do you see yourself? You lose weight because you're not eating. Everybody is worried.
Lovely: Does it include you?
Yunho: Yes.
[Lovely broke down]
Yunho: Why are you doing this to yourself?
Lovely: Stupid question.
Yunho: Answer it.
Lovely: I'm not like you Yunho. I don't know how to act cool in front of everybody. I don't know what to do.
Yunho: We're done. It's over Lovely.
Lovely: Is it really over between us?
Yunho: Maybe.
Lovely: Do you still love me?
Yunho: I don't know.
Lovely: You're not serious.
Yunho: I…
[Lovely stood up and walked]
Yunho: (Stood up) Lovely…
Lovely: I don't want to hear it anymore. I've had enough.
Yunho: Do you know why every man needs a woman when his life is in a mess?
[Lovely stopped walking]
Lovely: Why?
Yunho: Because the queen protects the king just like in the game of chess.
Lovely: I don't get it.
Yunho: My life is in a mess right now.
Lovely: Why?
Yunho: The most important person in my life now left me hanging in the dark.
Lovely: I…
Yunho: Even though you gave up on me, I still want you back. I don't want you to bear the pain alone. I really love you and I'm willing to die for you.
Lovely: I didn't give up on you…
[Lovely ran and embraced him]
Lovely: I'm sorry Yunho *crying*
[Yunho cried]
Yunho: Why are you saying that?
Lovely: I didn't try to listen to you.
Yunho: I'll forgive you for everything… Just come back to me.
Lovely: Yes…
Yunho: Let's start all over again.
Lovely: What about Paris? Your mom?
Yunho: Paris is just a sister to me and she wishes us luck. About my mom, I don't know. She's so stubborn. She really hates you.
Lovely: Really? I'm going to talk to her.
Yunho: Lovely… I miss your kisses.

[Lovely blushed]
[Yunho held her and kissed her]
♫Playing Wish♫
*Outside Lovely's room

Lovely: Goodnight.
Yunho: Erm…
Lovely: What?
Yunho: Can I sleep here?
Lovely: Why?
Yunho: We missed so much time.
Lovely: Oh. Go inside.

*While lying on the bed, Yunho gaze at Lovely.
Lovely: Why are you looking at me like that?
Yunho: Mmm…
Lovely: Do I look ugly now? (Conscious)
[Yunho laughed]
Yunho: No. You're still beautiful to me but you look skinny. You need to eat.
[Lovely hit him with a pillow]
Lovely: It's your fault.
[Yunho started to touch her face then her arms and kissed her forehead, nose, cheeks, and ended up in the lips.]
Yunho: I really miss you. (Close his eyes)
Lovely: Yunho…
[Yunho fell asleep at Lovely's shoulder]
Lovely: You fell asleep again just like the first time. (Smile) I love you Yunho. I'll never let go of you again.
[Lovely closed her eyes and fell asleep]