Playwrights
♥royal us

Yunmie
, 16, 31193. a proud cassie. ♥s pink. yogurt. mean girls. kpop . TVXQ especially
JUNG YUNHO
.
Blog | Mail | Friendster | YM
Sangie
, 15, 71693. senior. random. moody. impulsive. observant. mamaw. tee+jeans+sneaks girl. music is my
life
. ♥s green. dark chocolate. saw. twilight. ♥ jaejoong.
Blog | Mail | Friendster | YM


Best viewed in Mozilla Firefox
For IE users click on the chapters to see main page
Literature
♥Must Read
Love in a Mist
is a drama patterned on the Taiwanovela
Meteor Garden
. Male leading roles are played by
Dong Bang Shin Ki
, a popular Korean boy band.
♥ When a lover of many touches you would you accept him?
♥ When love reaches out back would you hold on to it?
♥ Would you even have imagined yourself in a chaotic and mysterious love?
♥ Through persuasion and patience can love be bought?
♥ When two people of the same heartbreak fall inlove with each other, do you consider that true?
Follow the lives of these teenage lovers as they fall in
love in a mist
.
Casts
♥click names to see info
동방불패
Dong Bang Bul Pae
"The Ashes of Time"
Choikang Changmin as Max

Jung Yunho as Yunho
Youngwoong Jaejoong as Hero

Kim Junsu as Xiah

Park Yoochun as Micky/Yoochun
New Ways Girls
"The Girlfriends"

Im Yoon Ah as Jen Im

Jeong Ryeo-won as Lovely Jeong

Park Min Young as Rose Park

Hwang Mi Young as Yuki Fokuda

Lim Eun Kyoung as Paris Han
Mean Girls
"The Plastics"

Han Ga In as Emily Yoon
Nam Gyu ri as Scarlett Park
Bae Seul Gi as Amanda Lee

Lee Hyo ri as Candice Choi
Poll
Best Couple ♥
Tagboard
comments *:)
Affiliates
Link us!♥





Wanna add your site here?
Email us at lovemist@ymail.com

Link Us!


URL
Chapters
Read More ♥
Chapter 21: Rising Sun
See all Chapters
credits
Komawo~!
Basecodes:
LOU
ISA
Smilies
AdobePhotoshop
OST
♥inamist!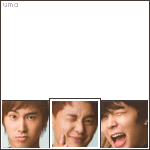 Chapter 21: Rising Sun
12:36 AM
*At Micky's Villa

(Max arrived with Jen and Lovely. Hero arrived with Rose. Yunho arrived with Paris and Xiah)

Micky: Welcome to Rising Sun Villa. (Grinning)
Xiah: Like the name. It sounds familiar to me. (Nodding)

Max: Ladies, I like you to meet our new member, Yoochun Park.
Jen: Omo~! Congratulations Yoochun.
[Micky smiled]
Rose: Aigoo~! My chum hits the jackpot eh. (Teasing Micky)
Lovely: You're really lucky Yoochun. Boys are dying to be with Max's group. So how did you join?
Micky: Erm…Well, Changmin called me to join them at a bar.
Max: He's our brother now. Let's go inside.
[Max and others went inside. Micky walked towards Rose and Hero]
Micky: Rose… Hero… I want to apologize…
Rose: (Smile) Yoochun, its okay.
Micky: How's your face Jaejoong?
Hero: It's okay now.
Micky: I'm really sorry. Here… (Extends his right hand)
[Hero accept it and they shake hands]

**At the reception area

Max: Jen and I will share the same room
Jen: Eh?! Changmin…
Max: What? I'm not going to do something. I promise.
Jen: Okay.
Hero: Erm, Rose, do you want to stay with me?
Rose: Ye. Ye. Ye. (Blushing)
[They laughed]
Yunho: So I guess, Paris and I will also share the same room.
[Everybody keep quiet and glance at Lovely]
Micky: Ye. How about you Junsu and Lovely?
Lovely: I prefer to be alone.
Xiah: Same here.
Micky: Okay. It's settled then. (Micky went to see the butler)

(The group went upstairs and went inside the room)

*At Max's room

Jen: Wow~! This room is huge.
Max: I want you to be comfortable.
Jen: Thanks.
[Jen embraced Max]

*At Hero's room

Rose: There's a terrace here?
Hero: Ye. We can look at the stars at night.
Rose: I can't wait!
[Hero kissed Rose' forehead]

*At Yunho's room

Paris: Why?
Yunho: Why what?
Paris: Why are you doing this?
Yunho: You're my fiancée.
Paris: Stop acting Yunho. I know that you're avoiding her.
Yunho: Don't worry. I'll sleep in the sofa.
Paris: Go back to her.
Yunho: How about you?
Paris: You don't need to worry about me.
[Paris cried then Yunho embraced her]
Yunho: Thank you. Someday, someone will love you, the way you wanted.
Paris: Oppa, actually I already like someone.
Yunho: Really? Who is it?
Paris: (Wiping her tears) I'm not going to tell you.
Yunho: Unfair. (Pinch her nose)
[Paris just smiled]

*At Lovely's room

[Lovely is embracing the couple bear given to her]
Lovely: (Sighed) I hope Yunho is here with me…

*At Xiah's room

Xiah: I wonder how Yuki-chan is doing…

*Time went so fast.
** It's time for their dinner.

Max: Everyone! Eat.
Jen: Yoochun thank you for this…
Rose: Your father is so nice.
Micky: (Smiled) Ye. Rose, my mother wants to say hi to you.
Rose: Really?
Jen: Oy! Lovely… Why are you not eating?
Rose: The foods are delicious.
Xiah: Ye. You can't be full if you're just staring at the food.
[Yunho glanced at Lovely.]
Paris: Oppa, tell her to eat *whispering*
[Yunho looked at Paris and shook his head]
[Lovely stood up]
Lovely: I… I… I just want to sleep now.
[Lovely left and everyone was quiet]
Rose: I'll follow her and check if she's okay.
[Rose stood up and went to Lovely's room]

Rose: Lovely… Open your door please.
[Lovely opened the door]
Rose: Are you okay? If you continue this, you'll be sick.
Lovely: I'm not hungry.
Rose: My god Lovely! You can't fool me. You're not eating for 3 days now. You're eating in front of us but you're vomiting it afterwards. Am I right?
Lovely: I… I… How did you know?
Rose: I saw you when we're at Jen's house. I called your mother and she told me about this.
Lovely: I can't take it anymore. I want to talk to him. I want to hug him. I really, really want to go back with him.
[Lovely broke down]
Rose: Then, why are you sacrificing yourself? You need to eat… How will you talk and make up if you're like this?
Lovely: I can't go on with my life.
Rose: Yunho still loves you. I'm sure of that.
[Lovely looked at her]
Rose: I'll go now. Lovely please take good care of yourself.