Playwrights
♥royal us

Yunmie
, 16, 31193. a proud cassie. ♥s pink. yogurt. mean girls. kpop . TVXQ especially
JUNG YUNHO
.
Blog | Mail | Friendster | YM
Sangie
, 15, 71693. senior. random. moody. impulsive. observant. mamaw. tee+jeans+sneaks girl. music is my
life
. ♥s green. dark chocolate. saw. twilight. ♥ jaejoong.
Blog | Mail | Friendster | YM


Best viewed in Mozilla Firefox
For IE users click on the chapters to see main page
Literature
♥Must Read
Love in a Mist
is a drama patterned on the Taiwanovela
Meteor Garden
. Male leading roles are played by
Dong Bang Shin Ki
, a popular Korean boy band.
♥ When a lover of many touches you would you accept him?
♥ When love reaches out back would you hold on to it?
♥ Would you even have imagined yourself in a chaotic and mysterious love?
♥ Through persuasion and patience can love be bought?
♥ When two people of the same heartbreak fall inlove with each other, do you consider that true?
Follow the lives of these teenage lovers as they fall in
love in a mist
.
Casts
♥click names to see info
동방불패
Dong Bang Bul Pae
"The Ashes of Time"
Choikang Changmin as Max

Jung Yunho as Yunho
Youngwoong Jaejoong as Hero

Kim Junsu as Xiah

Park Yoochun as Micky/Yoochun
New Ways Girls
"The Girlfriends"

Im Yoon Ah as Jen Im

Jeong Ryeo-won as Lovely Jeong

Park Min Young as Rose Park

Hwang Mi Young as Yuki Fokuda

Lim Eun Kyoung as Paris Han
Mean Girls
"The Plastics"

Han Ga In as Emily Yoon
Nam Gyu ri as Scarlett Park
Bae Seul Gi as Amanda Lee

Lee Hyo ri as Candice Choi
Poll
Best Couple ♥
Tagboard
comments *:)
Affiliates
Link us!♥





Wanna add your site here?
Email us at lovemist@ymail.com

Link Us!


URL
Chapters
Read More ♥
Chapter 20: Wicked Truth
See all Chapters
credits
Komawo~!
Basecodes:
LOU
ISA
Smilies
AdobePhotoshop
OST
♥inamist!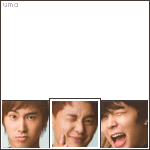 Chapter 20: Wicked Truth
12:27 AM
*At a bar…

Max: I'm planning to have a vacation. What do you think?
Xiah: That's a good idea.
Hero: Right! Right!
Yunho: Aish! Tsk. Why so sudden?
Max: Ya! Yunho, are you going or not?
Yunho: I'll go. I'm just asking.
[Micky arrived. Max stood up]

Hero: Why Yoochun is here? (Whispering to Xiah)
Xiah: Dunno. *whispering*
Max: Guys… I called Yoochun to join us. (Tapping Micky's shoulder)
Micky: Yo!
Yunho: So he's part of the group now?
Max: If that's fine with you…
Hero: It will be not H4 anymore.
Max: Ye. I'm going to change our name if Yoochun will join us.
Yunho: Cool!
Xiah: Good.
Max: Hero?
Hero: Dunno.
Xiah: Jaejoong ah!
Hero: What?! Fine.
Max: It's settled then. Welcome to the group Yoochun.

[Xiah and Yunho smiled while Hero frowned. Micky and Max sat down.]
Max: I thought about this for a long time.
Xiah: About what?
Max: Our vacation.
Hero: I see. Let's go somewhere else.
Xiah: Let's go to Japan.
Max: Junsu, that's impossible. Maybe we can go there after we graduate. You just want to see Yuki.
[Xiah blushed]
Yunho: How about going to a villa with hot springs and skis?
Max: Riiiight… (Smiling)
Micky: My family owns a villa
Xiah: Omo! Omo! You're so cool.
Micky: Not really. (Bragging)
Max: We'll be staying there for 3 days.
Micky: Really? I'll call my father first.

[Micky stood up and dialed his father's number]
Max: It's good to have Yoochun right?
Xiah: Ye.
Yunho: He's not that bad.
Hero: I still dislike him.
Xiah: (His eyes grew big) Why Jaejoong ah?!
Hero: …
Max: About Rose again?
Hero: Ye.
[Micky returned]
Micky: Done. My father allowed us to stay there for 3 days.
Max: I'll call the girls to join us.
Hero: I'll call Rose. (Looked at Micky)
[Micky avoided Hero's eyes]
Yunho: I'll bring Paris then…
Xiah: I feel so alone. Wait a sec. Yunho, what about Lovely?
Yunho: Dunno. You can invite her.
Hero: Do you still love her?
[Everyone keep quiet and waiting for his answer]
Yunho: (Sighed) My love for her will always be the same. (Drink in his glass)
Micky: What about Paris?
Yunho: She deserves someone else.
Max: You better fix it Yunho before it's too late.
Yunho: Yes. I will.

*At Jen's Room
(Rose and Lovely were having a sleep over in Jen's house.)

Jen: Girls. I have great news.
Lovely: What is it?
Rose: Spill it now.
Jen: Changmin called and said that we're going to a villa.
Rose: All of us? (Ecstatic)
Jen: Ye.
Lovely: Aigoo~! I think I won't be going with you guys.
Rose: Why?!
Lovely: I find it awkward to be with Yunho.
Jen: Hello?! It doesn't mean that you're just going there for Yunho. You will be there to enjoy.
Lovely: Fine, I'll go. (Smiling)
[Jen stood up and checked her email]
Jen: Omo~! Yuki sent an e-mail.
Rose: Really?
Lovely: What does it say?
Jen: She's coming back!
[They screamed]
Jen: But it's a secret. She doesn't want to tell it to Junsu. So please be quiet.
Rose: Ye.
Lovely: Okay.
Jen: This is going to be fun.