Chapter 10: The Oblivion
7:13 PM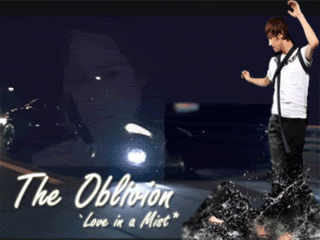 **Friday. Passing of project

Rose: Jae, thank you very much.

Hero: You're welcome.

Micky: Thanks bro.

[Hero ignored him again]

Lovely: Hey! Listen up. Prof. Lee has a meeting with the director so please pass your project to me okay?

All: Okay.

Max: Free time. Alright!

Jen: Changmin-oppa.

Max: Why?

Jen: Err~ Later.

Xiah: Ayeee. (Teasing Max)

Max: Stop that.

[Xiah sings "Flower Lady"]


Xiah: ♫ `Stay with me

Hero: Neomu areumdaun (*`you're so beautiful)

Xiah: Shine your
leaves

Hero: Gadeuk pieonajullae naman bol su ittge (*`will you always bloom for me?So only I can see it)

Xiah: Stay
you stay always. Stay with me

Yunho: Ojik nae gyeoteseo (*`just by my side)

Xiah:
Blow my heart

Yunho: Maeil pieonajullae pyeongsaeng nae gaseume (*`will you always bloom for me?Eternally in my heart)

Xiah: Stay you stay always ~ ` ♫

[Everybody clapped their hands]
Lovely:
(Amazed
) Woah. You never tell me that the three of you can sing.
Yunho: Max can sing too.
Lovely: I'm so proud to be your girl.
(Smiling)
Yunho: You must be.
Rose: Jae! You're a good singer.
Hero: Just once. Changmin told us to sing.
Rose:
(Surprised)
I thought you're just teasing Jen.
Hero: Anio. It's dedicated to Jen.
Rose: How sweet.
(Smiling)

Yuki: I like your voice.
Xiah:
(Smile)
Thanks.
Yuki: I wish you're singing for me.
Xiah: Oh? Maybe next time.
Yuki: Promise?
Xiah: I, Kim Junsu, hereby promise to sing for Yuki-chan.
(Raising his right hand)
Yuki: Don't break your promise.
** (Max went to Jen)
Max: Jen?
Jen: Mm?
Max: Can we talk?
Jen: Here or outside?
Max: In the garden
Jen: Okay.
[They went to the garden]

Jen: So? Now what?
Max: Jen…
(Jen just stared at him)
Max: I know that I hurt you…
Jen: Changmin…
Max: Let me finish first. I regret what I did and I didn't do it again.
Jen: I know.
Max: Jen, Do I still have a space in your heart?
[Jen didn't answer
]
Max: Can you give me another chance?
Jen: Changmin, I… Past is past. I… I… I still love you but I need space right now.
Max: Why?
(A tear roll down from his eyes)

Jen:
(Teary eyes)
I'm not yet ready. I'm afraid to get hurt again.
Max: I will never hurt you again.
Jen: Changmin… Enough
[Jen ran away and the rain started to pour. Max was left standing and he cried]

**At the Ladies room


Rose: Jen, what happened? Why are you crying?
Jen: Rose, he wants to start again.
Rose: O! Max?
[Jen nodded]

Rose: Buy why are you crying?
Jen: I refused.
Rose: What?! Do you still love him?
Jen: Of course. But I'm afraid. What should I do?
Rose: Give him another chance.
Jen: (
Look at Rose
) I already told him…
Rose: (
Wipe Jen's tears)
You still have the chance to say yes.
[Rose hugged her friend then Jen burst into tears]

**After class

(Max immediately left the room. He went anywhere. He was drunk. He started fights.)

*9:00 pm. Friday.

(Jen called at Xiah's house)

Jen: Yoboseyo? Junsu! I called at Changmin's house. He's not yet home.
Xiah: Okay. I'll call his phone. I'll hang up. Bye.
[Xiah hung up. He dialed Changmin's number]

~Ringing~
[Max took his phone and turned it off]

Xiah: Why did he turn it off? (
Worried
)
[Xiah dialed Jen's number]
Xiah: Jen, he turned off his phone.
Jen: Junsu I'm worried. Let's look for him.
Xiah: Ye. Bye.
[Xiah called Hero and Yunho while Jen called Rose and Lovely](They looked everywhere. Then…)

**2:00 am. Saturday
.
Lovely: Excuse me. What happened?
(Pointing to a group of people)

Man1: There's an accident ma'am. He might be dead.
[Lovely and Yunho looked at each other, worried]
Yunho: Don't tell me…
Lovely: Let's find out.
[They struggled at a group of people to see who it is]

Lovely: Excuse me. Excuse
. (Struggling)

[Lovely saw Max cover with blood and he was injured badly
]
Lovely:
(Screaming)
Changmin! Changmin!
[
Yunho checked Max's vital signs and called for an ambulance]
**At the Hospital.

`2:30 am. Emergency Room.

(Xiah and Hero arrived)


Xiah: What happened?
Lovely: He met an accident on his way home. He lose lots of blood.
[Hero hit the wall]
Xiah: Did you call Jen and Rose?
Yunho: They're coming.
[After 5 mins, Jen and Rose arrived]

Jen: Where's Changmin? Where is he?
(Hysterical)

Lovely: Jen, calm down. Please.
Jen: It's my fault.
(Crying)
[Rose hugged her]

Rose: Jen, don't blame yourself.
Xiah: Jen, relax. This hospital is owned by Max's father. He won't let Max die.
[The doctor went out the Emergency room]

Doctor Kim: Changmin is in coma. His external stimuli are unresponsive.
Jen: Until when?
Doctor Kim: It may last for a few days or for years.
[Jen burst into tears.]